Within an hour of emerging from its shell, a Herring seagull chick finds its mother's large yellow beak and begins pecking. The towering mother then spends several seconds positioning herself over the chick — almost as though she is carefully aiming — and then, after waiting a few more seconds, she violently regurgitates food into the waiting chick's mouth. This is how a seagull is fed for the first time. It is both messy and fascinating to watch. Like most things in nature, this process seems to make sense when observed externally: the chick needs food, so it pecks at its mother to receive it. But something very peculiar is actually going on: the chick has had no contact with its mother before it starts pecking at her beak, so how does it know to peck at it?
We might be tempted to assume that there is a biologically-programmed concept of "motherness" that the chick uses after it hatches to find food, and indeed this was the prime theory of many prominent ethologists for decades. But the truth, it turns out, is not so simple. The seagull chick mother detection system is far more complex than anyone had expected and its discovery in the mid 1940's by Dutch ethologist Niko Tinbergen led to huge advances in our understanding of human perception. Tinbergen was awarded the Nobel Prize for his findings.
The adult seagull has a long yellow beak with a conspicuous red spot at the base of its lower jaw. When you first see a chick peck at its mother, it appears that it is pecking at this red spot. But when Tinbergen presented fake models without red spots to the chicks, they still pecked in the exact same place-- they only reacted slightly less aggressively. They seemed, and to say this about a bird is very strange, less interested in the spotless beak. Confused, Tinbergen began trying different colors for the spot. The different shades of blue, green, white, black, and orange that he tried all elicited very specific degrees of responsiveness from the chicks, but there seemed to be no correlation between the actual color and the intensity of response. Until the data were graphed in black and white.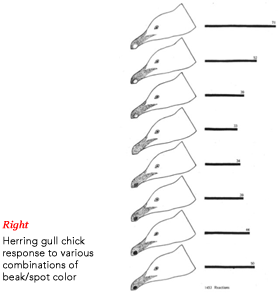 Contrast
It turns out, the higher the contrast between the spot and the beak, the more aggressively the chicks will peck. Except for red, which causes a 5-10% exaggeration in pecking, the color makes no difference at all. The chick is not specifically looking for a red spot on its mother's beak-- it is actually looking for an area of very high contrast.
After trying various spot/beak color combinations, Tinbergen took to changing the shape of the head, moving the dot position from the lower jaw, and changing various other features. None of these changes made any particular difference; he noticed small variations, but nothing very exciting. Then he discovered something remarkable: you don't even need a mother at all; if you totally remove the beak, it elicits the same response from the chick as a whole mother. The chick is simply looking for an area of high contrast on the end of a beak, no matter what it is connected to, so Tinbergen began focusing on the beak.
He created several models and began experimenting through trial and error. First, he dulled the end of the beak so that it was rectangular rather than pointed at the edge. The chicks seemed indifferent to this change. Then he elongated the rectangle, and the chicks started to react more aggressively. When he made the beak thinner, so that it was just a long super-thin line, the chicks went absolutely nuts, reacting almost twice as excitedly as they would have for a normal beak.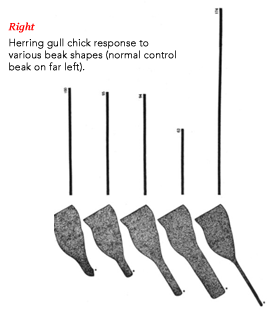 Thin Elongation
Tinbergen had discovered the essential properties, or the recipe, for a beak that tells a chick what to peck at: high visual contrast, rectangular elongation and thinness, and the color red. So he took a long stick, painted it red, he showed it to the chicks. They excitedly pecked at it. Then he added three white lines to the bottom, to enhance the contrast, and he reduced the thickness by half. When he showed this object to the chicks, they went absolutely insane, pecking in every direction as quickly as they could.
Niko Tinbergen had reverse engineered the seagull chick to create an uberbeak. But it looked nothing like a beak at all.
So what does this mean?
Being the solid scientist that Tinbergen was, he didn't make many extrapolations or assumptions based on his findings. He was performing his experiments at a time when the nature vs. nurture argument was in full force and psychology was being shaped by the ideas of Sigmund Freud. I think his results were so radical that it might be appropriate to put Freudian psychology on one end of the psychology spectrum and to put Tinbergen's ethological experiments on the other. Freud based his ideas on very poor science and readily admitted to using his own anecdotes as evidence for his theories. Tinbergen, however, performed very solid scientific experiments based solely on the external factors of animal behavior. Sixty years later, most of Freudian psychology has been thrown out, and instead more ethological evidence, like that from Tinbergen, has been used to advance psychological principles. Tinbergen's gull chick experiments started that transformation.
What Tinbergen's experiments immediately show is that seagull chicks are not looking for their mothers. When he began, he expected to find factors that directly correlated to "motherness" for a bird, and instead he found strange visual cues that simply lead the birds to peck at certain objects. From an evolutionary point of view, this type of mother detection system makes sense because it uses the absolute minimal amount of resources in a chick's brain. It is simply the connection of visual neurons to pecking motor neurons. And over some number of years, through natural selection, the birds have focused on the most essential pieces of information that signify something might be a mother with food. The triggers are so obvious and direct (red, elongation, thin, etc) because they directly determine whether a chick will live or die, making the selection process through evolution very clear.
Something else Tinbergen showed, and I haven't heard anyone specifically discuss this before, is the idea of elastic activation triggers in biology. Never before have I seen these triggers so clearly shown in an experimental fashion.
Elastic triggers allow for the ability of living things to adapt extremely efficiently to their changing environment. When Tinbergen presented the chicks with various colors of spots, for example, all of the models elicited some type of response from the chicks. There is no "if red spot, then peck once" code in the chick's brain. It is a complex system of elastically activated neurons that, regardless of intensity of activation, will always lead to some amount of pecking response. If you think about this on a higher level, in human cognition, you start to see the same patterns. Why is there such a vast difference in the perception of beauty? Why is there such a vast difference in the perception of humor? Of terror? Everyone experiences these emotions to some extent, but not everyone experiences specific events in the same way. The triggers to these emotions, like the pecking responses in the chicks, are elastic and allow a wide range of personality and experience to occur; yet the essential purpose of the emotion is always expressed. Terrifying things always make people terrified. Some people are just more terrified than others. (Where terror and humor meet, at the Clown, there are interesting results.) Likewise, Seagull mother beaks will always elicit pecking responses from the chicks, regardless of how deformed they are, because there is such a wide range of physical cues for activation.
I find it fascinating that Tinbergen's first expectation was that he would find the essence of a mother in his experiments. Most people tend to apply a human filter to observations of nature and, in this case, that filter clearly leads to the intelligent deduction that the chick was preprogrammed to find its mother. But "motherness" is such a high concept that it is almost stupid to think a bird would have any idea of what a mother is. It is actually looking for the physical representation of what it has "learned" through evolution to have food, since that is what the chick is actually in search of. A seagull chick does not look for its mother; it has a response to certain types of visual stimulation in its brain which directly lead to a motor pecking response.
And yet, it seems that quite a bit of computer software focuses on concrete identification of objects and behaviors rather than elastic identification, even though nature has shown the latter to be more efficient. This, I think, is where the key to developing true artificial intelligence might be found. And if we take the ideas of elastic activation and apply it to other areas of software and user interfaces, we might be able to hack the brain into perceiving something precisely the way we want it to. •
Comments: at hacker news

If you're interested (and definitely if you're using IE6),
here's a snap of the raw PSD that I coded everything from
, showing how the typography would look if web browsers were competent. Avenir is the font.